Breathe-Right Indoor Arena Footing™
Visit Us
We are located in Sultan, WA, 98294 
Credentials
Licensed & Bonded in WA State IMPROPI-085-J3
State of the Art Dust-Free Indoor Footing Technology
We are now offering our exclusive Breathe-Right™ Arena Footing products, designed and crafted to work in all  weather and for multiple disciplines.
For over 25 years we have been building and renovating riding arena surfaces in the beautiful Pacific Northwest. We continually strive to improve our product line by utilizing our customer's feedback to develop new and better footings.
We are now pleased to present our own custom designed all-weather Breathe-Right Arena Footings™ specifically crafted for the unique conditions in the Pacific Northwest. Carefully selected sands, combined with our Equi-Fleece German felt and the MAG Flake dust control, in the right amounts, create a surface that works FOR YOU.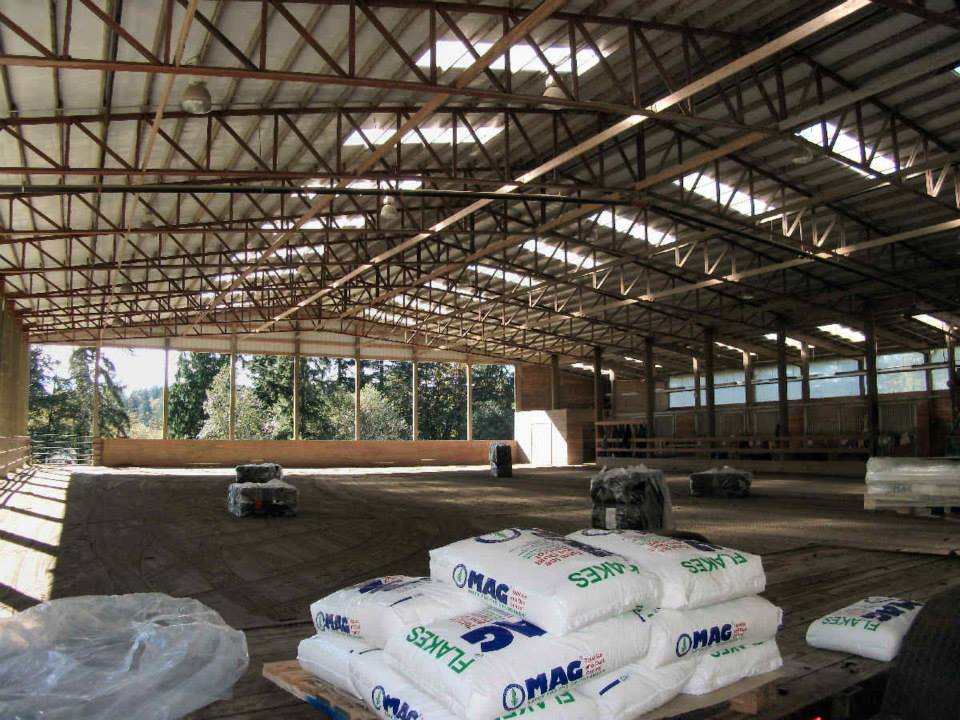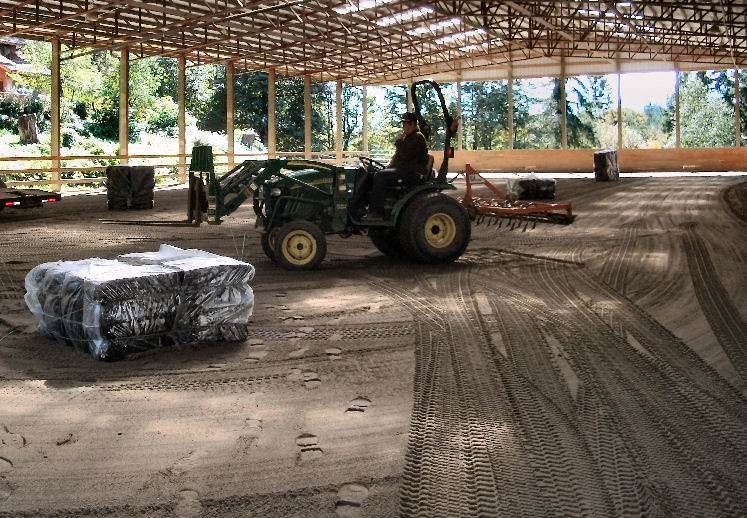 Polyester felt mixtures have been used internationally for decades as footing for multiple riding disciplines.
Our products endure the test of time, resist compaction, provide optimal drainage and minimize joint and tendon stress in the equine athlete.
We are confident that our products will improve your equestrian success while promoting and protecting the health of your valuable equine partners.
To inquire about installing Breathe-Right Arena Footing™ for YOUR arena – 
Email or Call us!
Equi-Fleece Attributes

Stabilizes sand particles and delivers cush and consistency with good resistance to compaction.
High-loft polyfelt product installs easily and stays cushy better than coated materials.
Enhances energy absorption for less concussion, protecting tendons and ligaments.
Gentle to the bare hoof (less horn abrasion than plain sand).
Improved shear resistance delivers additional stability under hoof.
Enhances and balances moisture absorption (this means longer intervals between watering outdoors).
Helpful water storage capacity as well as good post-rain drainage in outdoor footings.
Year-round ridability through extensive frost resistance (practically prevents freezing).
Easy to care for and durable (up to 10 years, depending on usage & maintenance).
A neutral NON-TOXIC, NON-ALLERGENIC material which will not affect either humans or animals.
NO rubber or latex dust as with some other additives! No "rubber rebound" or float-off, either.
Perfectly compatible with our MAG Flake indoor arena dust control!
MAG Flake Attributes

Stabilizes sand particles by holding a uniform, consistent moisture content.
ELIMINATES harmful dust from your footing.
SAFE! non-toxic, non-allergenic.
NOT STICKY!! will not coat legs as some of the "waxed" or oil products do.
Virtually eliminates watering of your indoor arena footing.
Freeze-proofs your footing!
Long-lasting solution to the time and labor of watering to control dust.