Visit Us
We are located in Sultan, WA, 98294 
Credentials
Licensed & Bonded in WA State IMPROPI-085-J3
Customers are our BEST Advertising
We installed our footing through Arena-Rehab in 2009 and have been delighted with it ever since. Our horses love the feel and we love never having to water! We have done regular maintenance on it working with Rick and Kate to keep it in fantastic shape, and would highly recommend it for any barn wanting happy, healthy horses. 
We rebuilt her footing in 2009 – she's had us back EVERY YEAR since to maintain and refresh!
I have had the privilege of riding on 4 or 5 arenas Rick at Arena Rehab has built. As a trainer, quality footing is one of my top priorities. Rick's deep knowledge of sport horse disciplines has allowed him to develop the perfect blend of materials and depth. I know that on Rick's footings my horses are jumping and moving their best!
Rick has maintained the footing at my farm for the past 13 years. He is efficient and detail oriented, which is paramount when working with horses and their schedules. We bring Rick in every couple years to evaluate our footing and make any necessary changes. Our horses are healthy and happy and our vet has even commented on how high-quality and well-groomed our footing is
Click on the image to the right to scroll through. These are of Jonnie Brooks indoor and outdoor arenas at Brookside Equestrian.
January 2017, 6 degrees Fahrenheit at Heidehof Farm near Colbert WA. Solid icy ground outdoors, nice freshly groomed Equi-Fleece footing indoors! The MAG keeps the footing from freezing all winter.
I like this footing. It is very good, very good indeed! The horses are secure and do not slip at all.
I'm a firm believer! First winter in my new barn I either ate dust or watered for 2 hrs a day and my barn was cold! This year I put the mag in it and got to enjoy a warmer, non-dusty barn. This is a great product from very good people!
Kandi Carter, Carter Cow Horses of Gillette, Wyoming, where it gets cold. Kandi's comment about feeling warmer tells us that the MAG is really pulling the humidity out of the air to do it's work in controlling dust!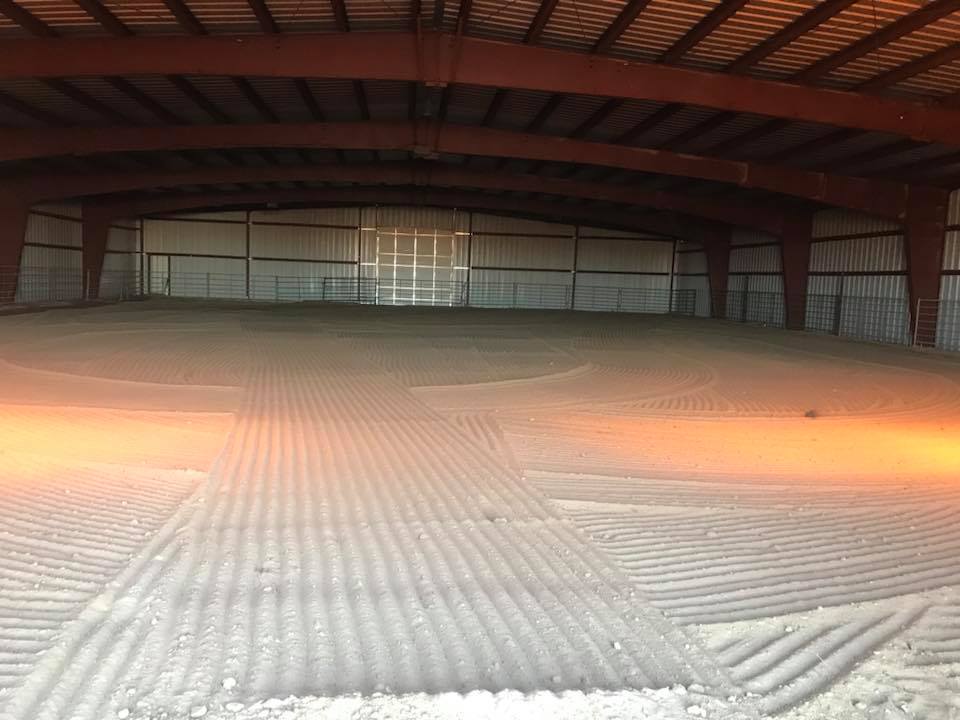 Kandi Carter's freshly groomed arena…dust free!
I can honestly say that what Rick did has been the best arena I have ever ridden in. Even when we got that horrible rainstorm last winter (what was it 6 or 8 inches?) it drained amazingly well. I have had no problems with puddles-even when schooling in the rain it is solid-no fear of slipping. Over the years I have seen a lot of arenas with all types of footing and I am so glad Rick suggested what he did plus I never felt the footing was too deep-even in the very beginning. I tell anyone who is even thinking about putting in an arena about you. I just wish I could have afforded to go with a regulation size dressage arena – future expansion plans… 
Feel free to bring people out to see the arena if you need to – I'd be happy to show it to them!
I know I am a bit out of the way but some people actually need to touch it
to believe how good it is.
Take care,
Just a note to follow up for you… we did receive the shipment, and we put down the recommended initial application amount on our footing to start. It worked very well, the next morning, there were puddles of water on top of the sand and I worked it all up with our drag.
It was amazing, because the next morning, the windows had no humidity on them, usually you can't see out of them, and no dripping from the roof steel trusses either.
We put down another few sacks on the well traveled areas, and worked it up again, and it's been dust free and humidity free pretty much since.
When it got down to 10 below zero outside, of course the windows frosted up. It's warming now, my granddaughters were in there riding last night for a couple hours, and no dust.
I'm really satisfied with your product.
Thanks so much,
Rick Triplett, the Arena Rehab Specialist, and his company Improvements Plus, Inc., has helped us out so much on the new footing in our dressage arena this year. We got excellent prompt responsive service and fast delivery of the product we purchased from Arena Rehab.
Rick didn't just sell us some additive and then disappear, he advised us on the type of material to use, how to install it, and what kind of machinery we would need to keep the footing performing well after the sale. Rick was always available via telephone to walk us through the details, including setup and use of our new EZ Groomer (also purchased through Arena Rehab) for maintaining the dressage ring.
The Equi-Fleece product is fantastic, it was easy to install, and it just gets better and better as we use it and groom it. Our new EquiFleece footing is not dusty and it stays cushy and nice even with heavy use. As we are a fairly busy boarding and training facility, keeping our clients happy is our main concern. Rick's help and availability made it easy for us to have the riding arena we needed.
We get lots of compliments on our dressage ring, and our boarders and trainers love it!
Sincerely, Lisa Wolf, Owner – Portuguese Bend Riding Club
I am very impressed with the arena footing that we purchased from Rick Triplett of Arena Rehab Specialists. He did a wonderful job making our outside arena into an all weather, all year arena, when before we could only use it in the good weather of the summer.
We also had him do our inside arena as well, and are very pleased with the job that was done. Our horses are all moving better and much happier with the springy, more stable footing. The MAG really controls the dust and keeps the perfect moisture balance..
I would recommend Rick to do any arena, and welcome any questions or visitors who would like to look at his work.
Ralph F. Dreitzler III
Raflyn Farms Dressage Center
Snohomish , Washington
Outdoor Arena , summer of 2009, 70′ x 200′ Sand footing with felt and soil binder to create a perfect footing, just in time for the Andreas Hausberger Clinic held there in July 2009.
See how nice this surface is to work on, for both horses and humans! Not too deep, yet forgiving and resilient.